We would like to take this opportunity to introduce ourselves as one of the leading printing companies in Lebanon.
Karaky Printing Press, part of Nazeeh Karaky Est. for design, printing and advertising, was founded by Mr. Nazeeh Karaky and has been growing day after day over the years.
In 1979, we started in Moussaitbeh area as a graphic design and calligraphy house. Then, we extended into pre-press, thus executing photo typesetting, layout, color separation, film and offset plate making, engraving and rubber clichés. In addition, we opened a small department where we installed two offset and letterpress printing machines.
In 1981, we decided to open another branch in Zukak Al-Blat, which was a fully equipped printing and binding center. Over there, we installed letterpress machines, a two-color 70×100 cm offset printing machine, a four-color 50×70 cm offset printing machine, one-color offset printing machines of different sizes, saddle-stitching units and a full line of perfect binding and finishing.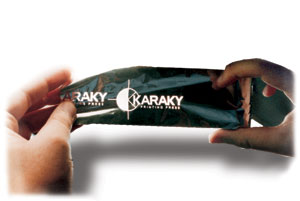 In 1985, we applied a product line extension strategy by launching a third branch in Beirut Central District, in which we installed all kinds of packaging equipment for producing cardboard packages, die-cut boxes and fancy paper bags.
In 1990, all branches were combined and set up in Ras Beirut, Kraitem, where our current location is. We installed all our machinery and equipment, thus establishing a fully integrated design, printing and packaging company that executes all processes in the same area of 3,200 m². Ever since we started our business operation, we have been investing in new machines like four-color 70×100 cm offset printing machines and more, thus making sure that we are always up-to-date with new technologies and business trends in the printing field.
Our company's mission is to form a successful business relationship with each of our clients and by doing so, provide a superior quality printing service. To this end, we offer a high standard in printing, in the shortest possible time, and at competitive prices.
To achieve our goals, we have combined high technology with craftsmanship, thus producing printed material, which is so outstanding that we are currently considered one of the best printing presses in Greater Beirut - a city known as the "printing capital" of the Middle East.
While commitment to our customers remains top priority, our company's expert team is trained to handle your orders with the utmost professionalism and to provide follow-up with equal care and attention. Therefore, our vast experience in the field of printing and the wide variety of products that we produce qualify us to understand and fulfill your needs.